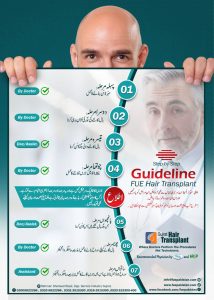 Hair Transplant is a surgical procedure and one should be very careful while choosing a fue hair clinic and a best fue hair doctor. Most of the patient dont even ask the qualification of a hair transplant doctor or even standard of sterilization for a hair transplant procedure. Their only concern is the cost of FUE HAIR TRANSPLANT and they merely judge the clinics on the basis of price of hair transplant.
Following steps should be kept in mind whole choose g a best reviewed fue hair transplant clinic in PAKISTAN.
Before these steps patient must meet the hair transplant doctor and get all the necessary laboratory tests done and must have followed the instructions advised by FUE expert doctor.
Step1: who will draw the hair line. it must be by the doctor and if it's not than ask the hair technicians to stop it here and call the hair transplant doctor.
Step2: who will mark the donor area to safely harvest the grafts from a safe donor zone. It should be done only by a FUE HAIR TRANSPLANT expert doctor.
Step 3: a doctor or his staff can num the area for procedure.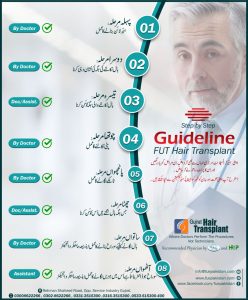 Step 4: in strip method only doctor should take the strip and apply stitches. In FUE HAIR TRANSPLANT surgery only doctor can extract the grafts from a donor .if it's done by a technician than it's not only a crime but also not safe for you as they always damage the underlying nerves and hassles due to lack of knowledge. Their only job is to assist the doctor and not to do the invasive part of fue surgery.
Step 5: a doctor or staffs can num the recipient area.
Step 6: only a doctor must perform the site making procedure. If a hair tech performs this it will end up with some complication.
Step 7: this part is performed by a technician and he can put all the grafts in small tiny whole made by doctor according to angle and direction of natural hairs.
Please follow these steps and don't put your life and looks at fish for the sake of few rupees.