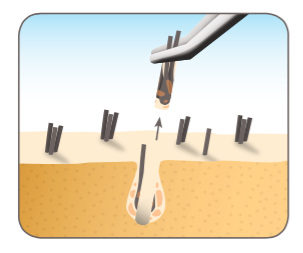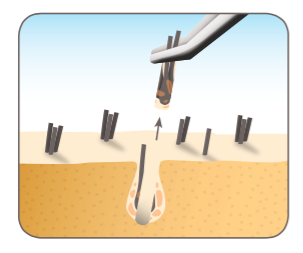 HASCI Hair Transplantation Method or Hair Stem Cell Transplantation (HST) is a patented and sophisticated hair treatment that multiplies hair follicles.
A hair stem cell transplant does not remove the entire hair follicle. Instead, several hair stem cells are left in the donor area to stimulate regrowth.
Advantages:
Multiple transplants can be performed in a single donor area
No scarring
Painless treatment
In This method only a portion of the hair follicle and the stem cells it contains is removed, the remaining and transplanted stem cells stimulate new hair growth in a matter of weeks. The remaining and transplanted hair stem cells generate the same quality hair as the existing hairs. The final result can be seen after a full hair growth cycle of nine months.
How does hair stem cell transplantation work?
Studies carried out by doctor and researchers found that several new hairs can be produced using only part of the hair stem cells (instead of the entire follicle). This results in new hair growth in both the donor area and the receptor area. The HASCI method or Hair Stem Cell Transplantation (HST) cleverly utilizes natural stem cells paired with a specially developed medium that guarantees the viability of the grafts and stimulates further growth in the stem cells. Both components are essential to achieving the desired results and is what makes the HASCI or Hair Stem Cell Transplantation (HST) method so unique. A natural hairline can be created using smaller grafts than the ones used in other techniques.
Each hair follicle consists of different areas that contain hair stem cells. According to latest scientific studies there was no need to extract the entire hair follicle, just a small part of the follicle is capable of producing new hairs. Under ideal circumstances, this technique can be used to create two follicles from a single follicle to generate hair growth.
As a result, the donor area can be used for future transplants.This method uses a hollow needle of just 0.5 to 0.6 mm in diameter. The hair shaft is used as a guide to remove part of the follicle. By following the hair shaft, the needle automatically reaches the correct location to remove a few stem cells. This makes it possible to extract a small portion of the follicle, even if the shape is not ideal. The result is a well preserved donor area that can be used to harvest new hair follicles for future treatments.
An overview of the HASCI method
It starts with a local anaesthetic. HASCI uses its own unique anaesthesia method that is much less painful than traditional methods
This makes the treatment itself entirely painless
And thanks to the exceptionally small needles, there's no post-operative pain either
The end result is virtually complete regrowth in both the donor and receptor areas
Full healing of the donor area within two days
A very natural result
Full healing of the receptor area within five to seven days
Suitable for facial area treatments
Suitable for treatment of scar tissue (e.g. burn wounds)
Multiple treatments are possible thanks to the full recovery of the hair follicles in the donor area